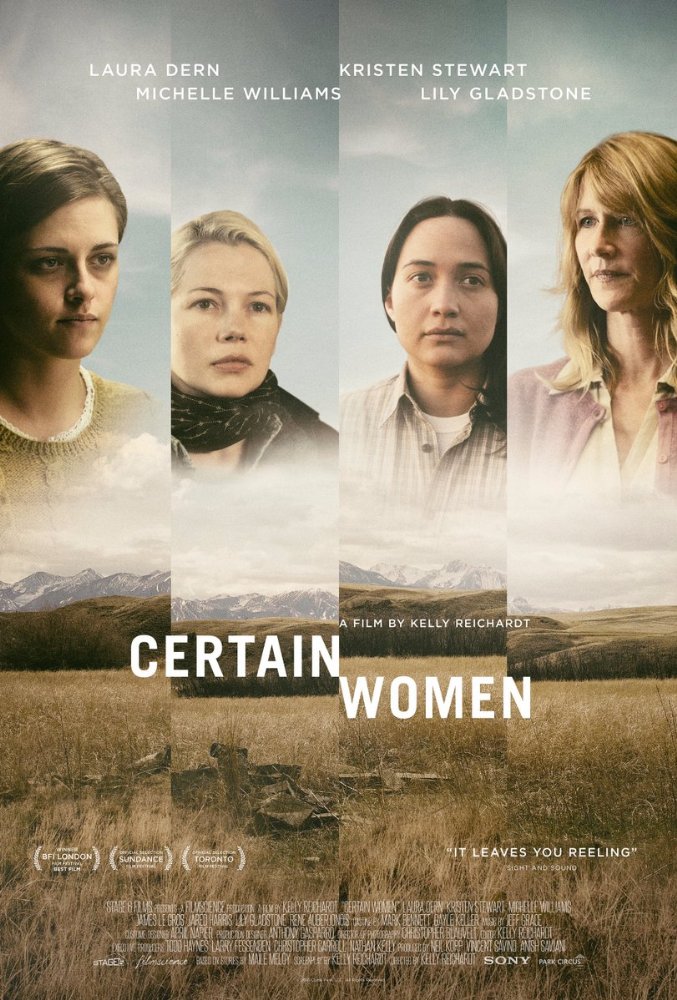 Michelle Williams, Laura Dern, Kristen Stewart and Lilly Gladstone star in one of the most critically lauded films of 2016.
A portrait of four women living subtly interlocking lives in rural Montana, striving to forge their own paths amidst the wide-open plains of the American Northwest. Laura, a lawyer living and working in Livingston, struggles to handle an increasingly difficult and unpredictable client who refuses to accept that his personal injury claim will not be successful. Gina's determination to build her dream home outside of town puts her at odds with her husband, daughter and neighbours as her relentless drive causes tension in their shared lives. And, in the remote town of Belfry, a lonely ranch hand working a winter job stumbles upon a night class taught by a young law graduate with whom she develops an ambiguous bond.
Winner of numerous awards including Best Film at the 2016 London Film Festival, Kelly Reichardt's latest film confirms her as one of cinema's foremost directors.
"this calm, understated film is a delight." - DAVID STRATTON
"Reichardt puts women in the driver's seat for story of substance...a quiet triumph" - SBS.COM.AU
"entirely absorbing. You must take time to immerse yourself in its quiet mystery." - GUARDIAN
"The cumulative power of Reichardt's film, beautifully acted by Laura Dern, Michelle Williams, Kristen Stewart and Lily Gladstone, is undeniable and quietly devastating." - ROLLING STONE
"exudes a quiet strength. It isn't flashy nor is it imposing, but its purpose and meaning rings loud." - NEWS.COM.AU
Cast: Michelle Williams, Kristen Stewart, Laura Dern, Lily Gladstone
Director: Kelly Reichardt