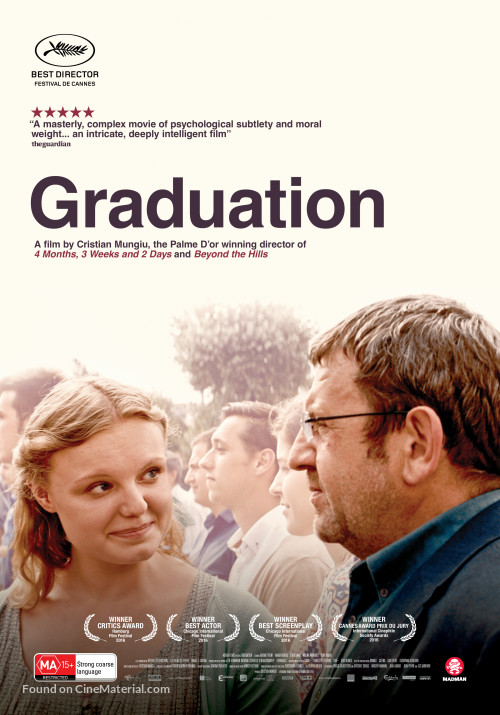 Palme d'Or-winning filmmaker Cristian Mungiu is back with the highly anticipated film that earned the Romanian master the Best Director award at the 2016 Cannes Film Festival. 

Romeo Aldea is a frustrated and unfulfilled middle-aged doctor living in a small mountain town plagued by corruption. He wants a better life for his gifted daughter Eliza, raising her to believe that she will leave her home behind to go to university abroad, and live the life he always wished for himself. 

His plan is close to succeeding - Eliza has won a scholarship to study psychology at Oxford in the UK, but she has to pass her final exams – a formality for such a good student. However, the day before her first exam, Eliza is assaulted in an attack that could jeopardise her entire future. Now Romeo – a man of strong principles – has to make a decision. There are ways of solving the situation, but none of them use the values he has instilled in his daughter.
"★★★★ Mungiu's handling of this drama is exemplary" - DAVID STRATTON
"An extraordinarily deft, well-pitched and multi-faceted film." - FILMINK
"a masterly, complex movie of psychological subtlety and moral weight" - GUARDIAN
"an intricate, deeply intelligent picture" - GUARDIAN
"Mungiu has a technical mastery of his craft which is so effortless, so subtle, and so insidiously naturalistic." - HOLLYWOOD REPORTER
Cast: Adrian Titieni, Maria Dragus, Lia Bugnar
Director: Cristian Mungiu