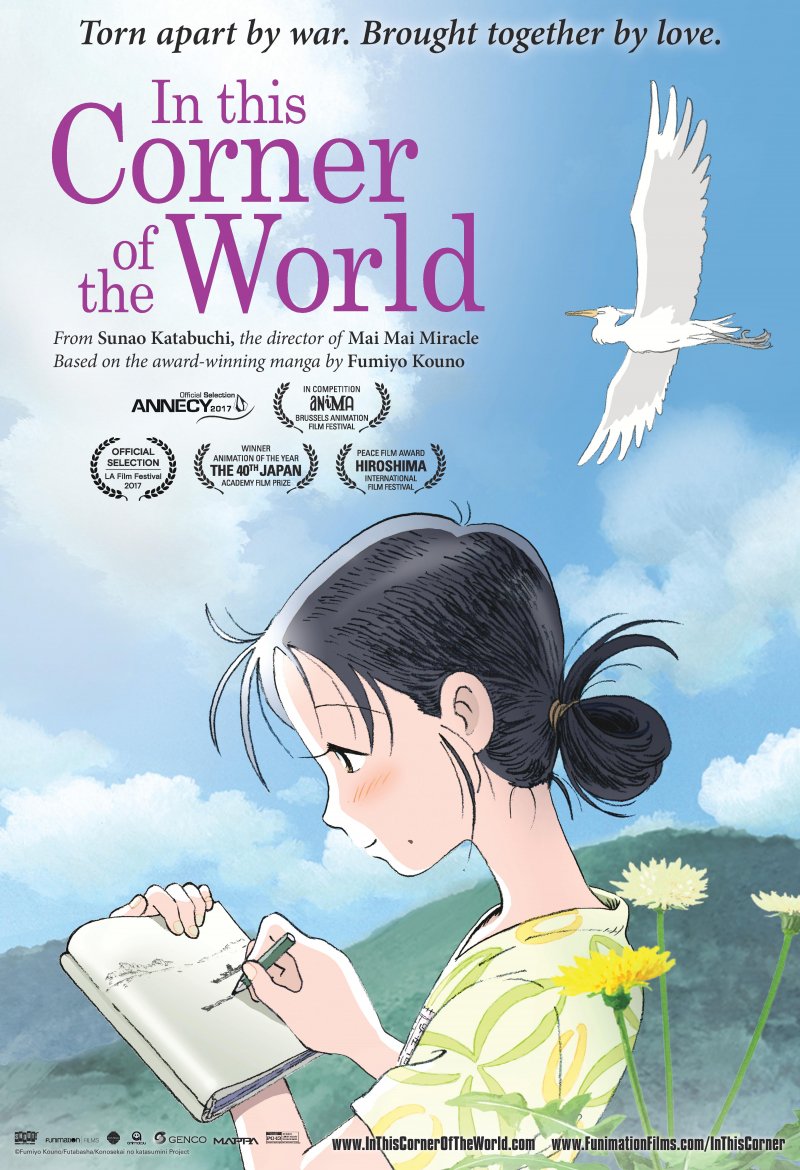 An incredibly exquisite, artful and socially relevant film that will impact everyone who sees it.
The award-winning In This Corner of the World follows a young girl named Suzu Urano, a talented natural artist who, in 1944, moves to the small town of Kure near Hiroshima where she marries Shūsaku Hōjō – a young clerk who works at the local naval base. Living with his family, the big-hearted Suzu becomes essential to the running of the household.
In 1945, intense bombings by the US military finally reach Kure with devastating effect to the townsfolk and their way of life. Suzu's life is changed irrevocably, but through perseverance and courage, she manages to continue to live life to the fullest. This beautiful yet tragic tale shows that even in the face of adversity and loss, people can come together and rebuild their lives.
The charming and cheerful character of Suzu highlights the noble spirit of the Japanese, making In This Corner of the World an uplifting coming-of-age story and a timeless classic.
English dub version.
"Suzu's story becomes so deeply personal that when an animated hand waves at the audience at the film's conclusion, we will feel like waving back, like we would to a friend." – LA TIMES
"It would be great if a story about imminent nuclear warfare didn't feel quite so relevant, but this quietly powerful anime gives us reason to hope." - INDIEWIRE
"A wistfully nostalgic time capsule of civilian life under the catastrophic tide of war." - VARIETY
"It is a beautiful film with great depth of emotion and draws the viewer in to its subtle grace in telling a simple, poignant story." - REELING REVIEWS
Cast: Megumi Han, Yoshimasa Hosoya, Kira Buckland, Barbara Goodson, Todd Haberkorn
Director: Sunao Katabuchi
Sessions
Thursday, 28 December 2017: 2:20 PM (ends 4:35 PM) Reserve
Saturday, 30 December 2017: 11:55 AM (ends 2:10 PM) Reserve
Monday, 1 January 2018: 11:55 AM (ends 2:10 PM) Reserve
Wednesday, 3 January 2018: 8:00 PM (ends 10:15 PM) Reserve
Friday, 5 January 2018: 5:15 PM (ends 7:30 PM) Reserve
Sunday, 7 January 2018: 11:55 AM (ends 2:10 PM) Reserve
Tuesday, 9 January 2018: 5:15 PM (ends 7:30 PM) Reserve