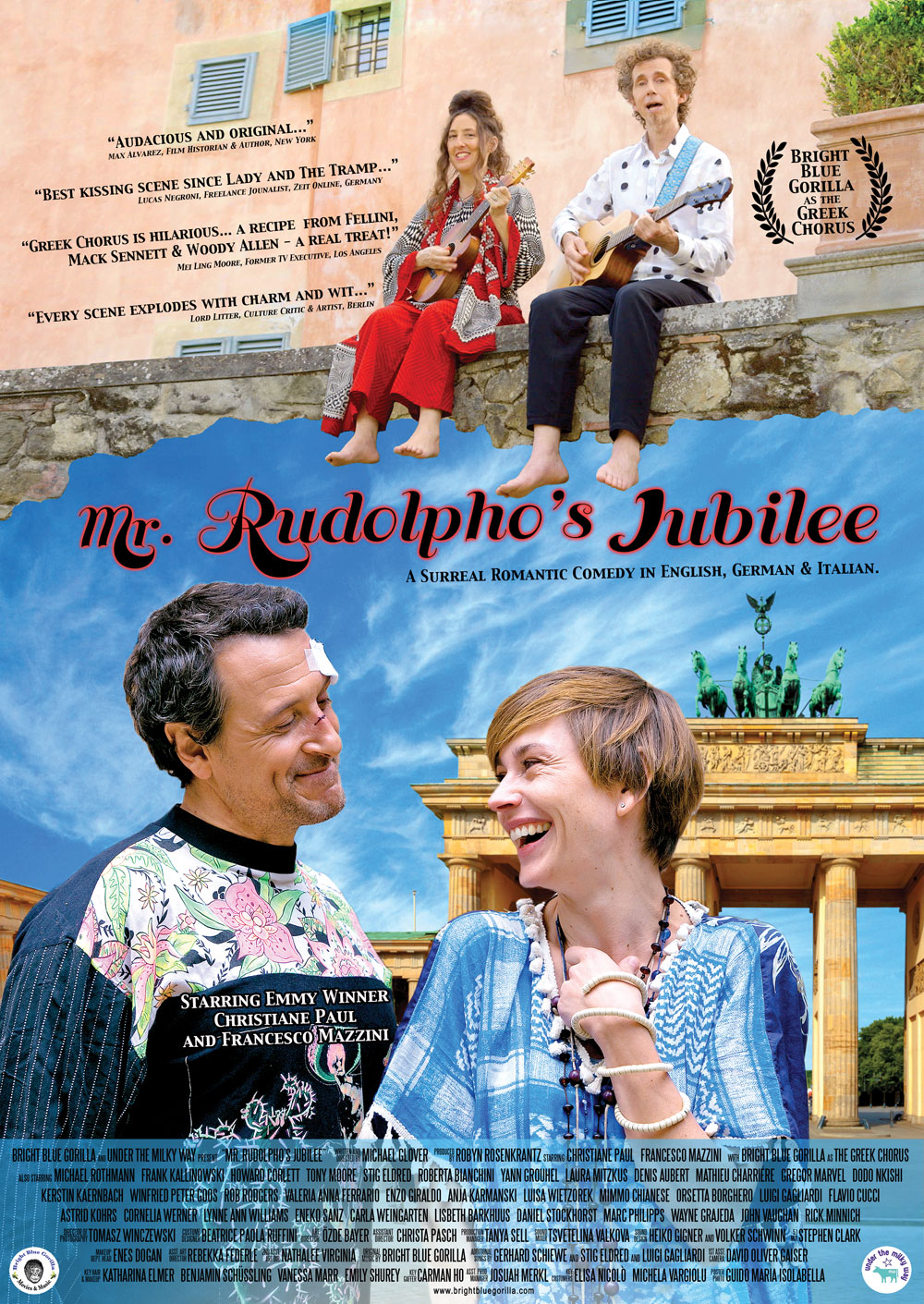 Mr. Rudolpho's Jubilee is a romantic comedy told by two "Musical Angels", aka Bright Blue Gorilla as the Greek Chorus. Italian fashion designer, Mr. Rudolpho - rich, famous and depressed - decides to end it all however things don't go as planned and he finds himself hanging out with a bunch of bohemian artists while the rest of the world is madly searching for him.
The event screening includes a live performance by Bright Blue Gorilla (Robyn Rosenkrantz and Michael Glover) before the film, an interval where audience members have an opportunity to purchase their CDs and a Q&A with the filmmakers afterwards.
Starring the Emmy winning Christiane Paul, with a fantastic ensemble cast, Mr. Rudolpho's Jubilee is the 6th feature film from the independent movie and music team, Bright Blue Gorilla.
Tickets $20/25 available online here: https://www.trybooking.com/TMEK
​ABOUT BRIGHT BLUE GORILLA
Bright Blue Gorilla is producer Robyn Rosenkrantz and director Michael Glover, world-traveling filmmakers, musicians, and happy husband/wife team from Los Angeles. In 1990, they quit their L.A. jobs, sold everything they had (except their guitars), and bought one-way tickets to Amsterdam. They started touring extensively in Europe, playing in the streets, cafes and music clubs, and soon landed a deal with Virgin Records. The year they were signed to Virgin, Bright Blue Gorilla performed for over 40,000 people as the hosts for a Liberation Day concert in Amsterdam and in 2005 they began writing-directing-producing feature films. How does all this add up? BBG has made six feature films, 12 CDs and over 4000 live performances! This is their first Australian tour!
"Every scene explodes with charm and wit" - LORD LITTER,CULTURE CRITIC & ARTIST, GERMANY
"a total delight" - OSCAR/EMMY NOMINEE PAOLA DI FLORIO
"audacious, original and energetic convergence of music, romance, madcap comedy and intrigue" - MAX ALVAREZ, FILM HISTORIAN/CRITIC
"best kissing scene since 'Lady and the Tramp'" - LUCAS NEGRONI, ZEIT ONLINE
Cast: Christiane Paul, Francesco Mazzini, Stig Eldred, Robyn Rosenkrantz, Michael Glover
Director: Michael Glover