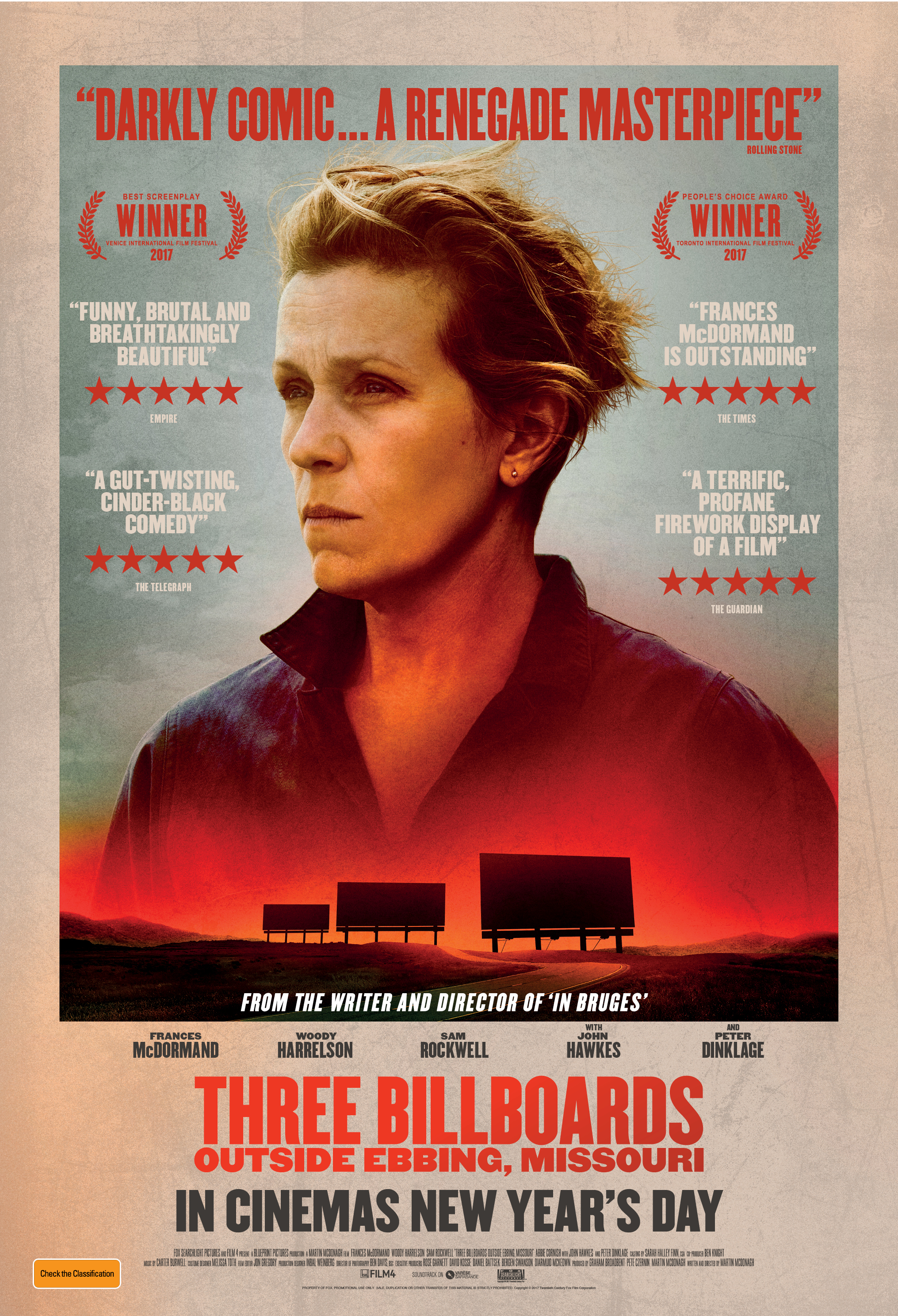 Nominated for seven Oscars! - including Best Picture, Best Actress, Best Supporting Actor (x2 nominees), Best Original Screenplay.
A darkly comic drama from Academy Award winner Martin McDonagh. After months have passed without a culprit in her daughter's murder case, Mildred Hayes makes a bold move, painting three signs leading into her town with a controversial message directed at William Willoughby, the town's revered chief of police. When his second-in-command Officer Dixon, an immature mother's boy with a penchant for violence, gets involved, the battle between Mildred and Ebbing's law enforcement is only exacerbated.
"Frances McDormand is phenomenal in this surefire awards contender from Martin McDonagh-it's a renegade masterpiece that will get you good." - ROLLING STONE
"Frances McDormand is at her quirky humane best" - VARIETY
"One of those truly rare films that feels both profound and grounded; inspirational without ever manipulatively trying to be so." - ROBEREBERT.COM
"A corrosively humorous drama of festering injustice, Shakespearean rage, grave reckoning and imperfect redemption, which unfolds with the epic dimensions of a classic Western showdown." - HOLLYWOOD REPORTER
"There's a lot to admire about this film; not just its unflinching stance, but also its crumbs of redemption." - FILMINK AUSTRALIA
"Frances McDormand gives a powerhouse performance... an uproarious delight of a film that snaps the eyelids up like roller-blinds and had the Venice film festival audience breaking into rounds of spontaneous applause." - GUARDIAN
Cast: Frances McDormand, Woody Harrelson, Sam Rockwell, Abbie Cornish, Peter Dinklage, John Hawkes, Lucas Hedges, Samara Weaving, Caleb Landry Jones
Director: Martin McDonagh
Sessions
Thursday, 22 February 2018: 5:30 PM (ends 7:35 PM) Reserve
Friday, 23 February 2018: 8:00 PM (ends 10:05 PM) ReserveNote: Reservations recommended!
Saturday, 24 February 2018: 5:30 PM (ends 7:35 PM) ReserveNote: Reservations recommended!
Sunday, 25 February 2018: 11:00 AM (ends 1:05 PM) Reserve
Thursday, 8 March 2018: 1:40 PM (ends 3:45 PM) Reserve
Friday, 9 March 2018: 8:00 PM (ends 10:05 PM) ReserveNote: Reservations recommended!
Saturday, 10 March 2018: 2:40 PM (ends 4:45 PM) Reserve
Sunday, 11 March 2018: 8:20 PM (ends 10:25 PM) Reserve