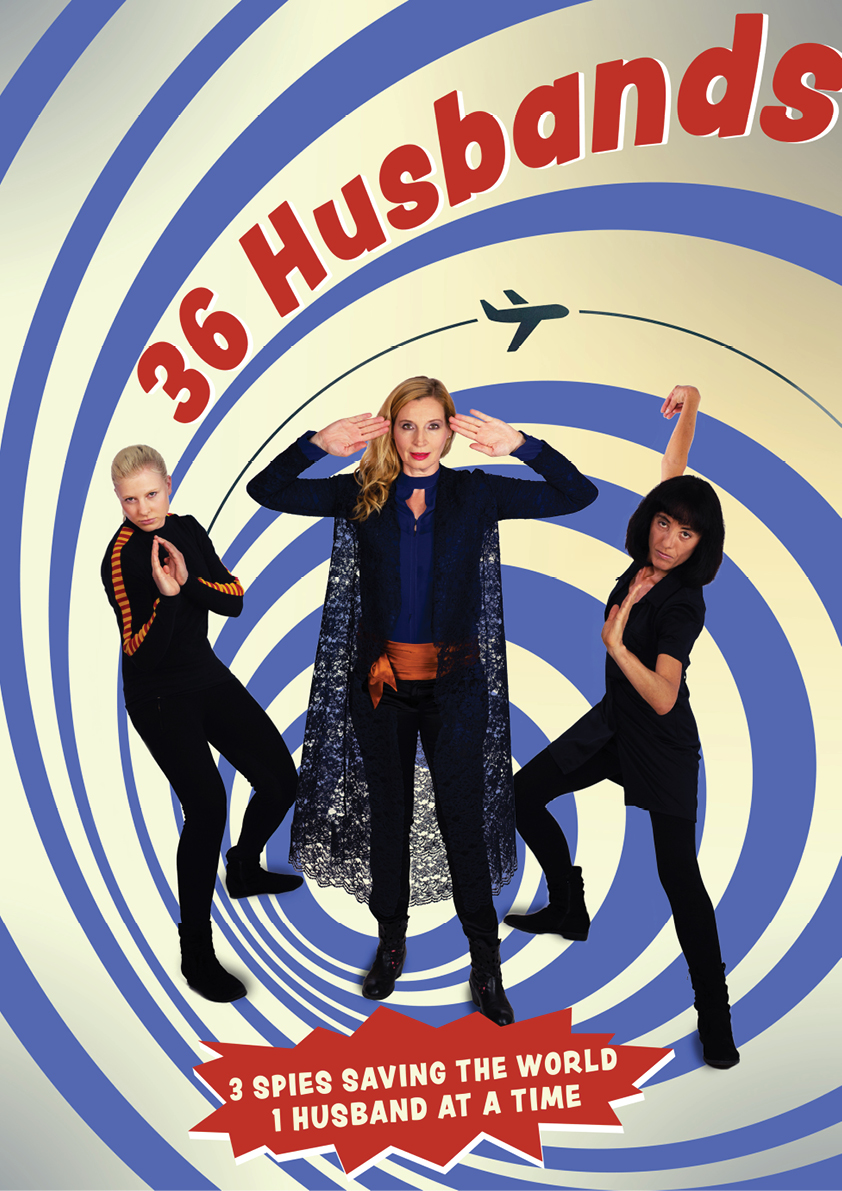 36 Husbands is a mystical, musical, romantic, Kung Fu spy comedy starring three powerful women - and a bunch of husbands. Krista, top spy and Kung Fu master, has extraordinary powers and she puts them in action on her quest to slow down the march towards World War III. Together with her Kung Fu disciples, Gina and Nola, (and Frankie, a spy on-loan from MI6) they fight and love their way across the world leaving a trail of broken hearts and sabotaged plans. All the spies and evil-doers are tuning into the Bright Blue Gorilla TV show. Why do they watch? Is it the music, is it the comedy? This uplifting independent film is quirky, clever, fun, and full of surprises.
Bright Blue Gorilla's music show is uplifting and lots of fun with beautiful melodies, humour, acoustic guitars, harmonium, tablas, and whatever interesting instruments they can get their gorilla hands on!
Before the screening of the film, 36 Husbands, there will be a live music performance from Bright Blue Gorilla. Stick around after the film for a Q&A with the filmmakers and an opportunity to purchase their CDs.
Tickets $20/25.
To get your tickets click on "Book now" or visit:
trybooking.com/BHOMG
​ABOUT BRIGHT BLUE GORILLA
Bright Blue Gorilla is producer Robyn Rosenkrantz and director Michael Glover, world-traveling filmmakers, musicians, and happy husband/wife team from Los Angeles. In 1990, they quit their L.A. jobs, sold everything they had (except their guitars), and bought one-way tickets to Amsterdam. They started touring extensively in Europe, playing in the streets, cafes and music clubs, and soon landed a deal with Virgin Records. The year they were signed to Virgin, Bright Blue Gorilla performed for over 40,000 people as the hosts for a Liberation Day concert in Amsterdam and in 2005 they began writing-directing-producing feature films. How does all this add up? BBG has made seven feature films, 13 CDs and over 4000 live performances! This is their second Australian tour!
Cast: Christa Pasch, Roberta Bianchini, Nadine Nourney, Dominic Anglim, Bright Blue Gorilla, Howard Corlett
Director: Michael Glover