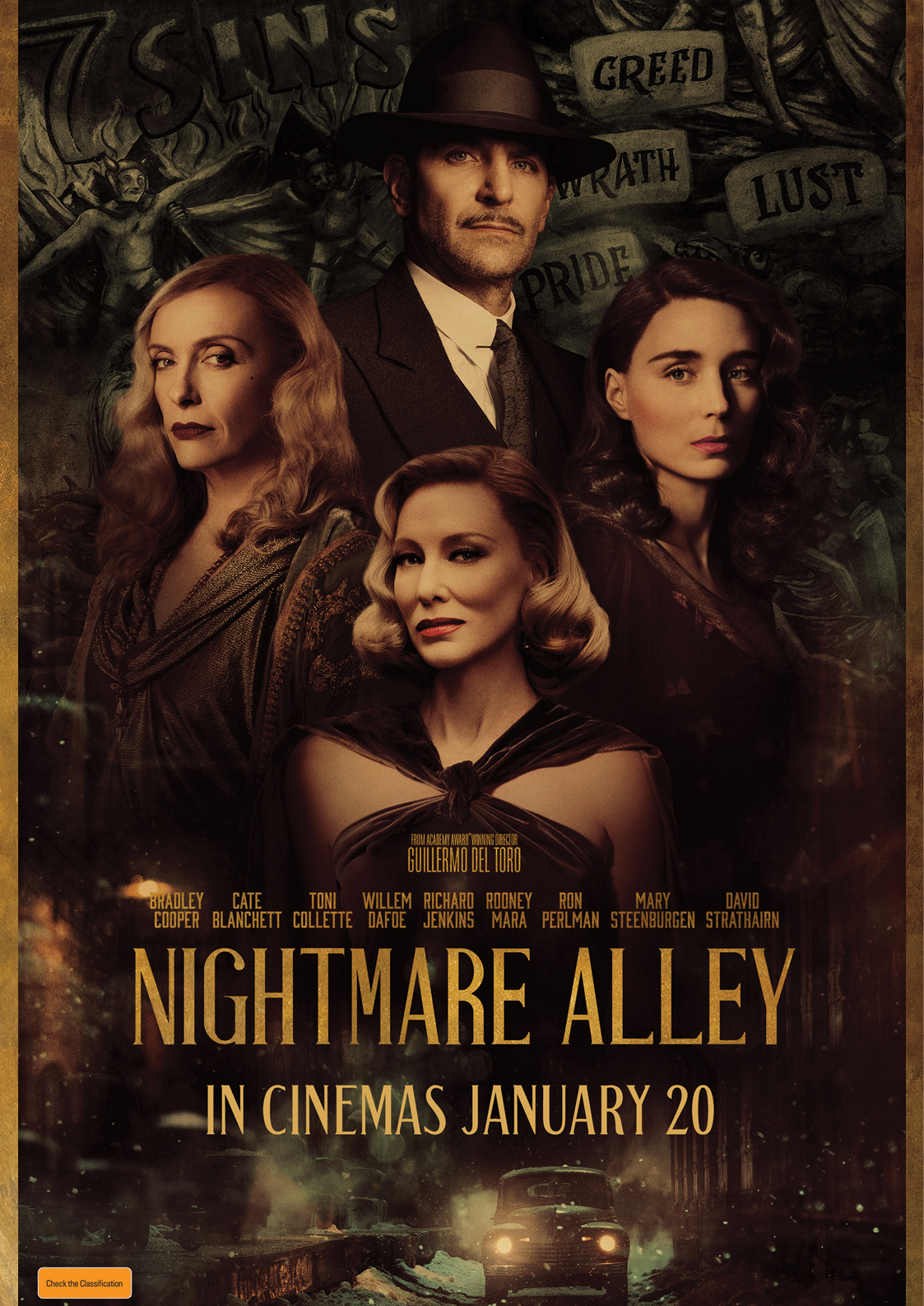 Nightmare Alley, adapted from the 1946 novel of the same name by William Linday Gresham, is Academy Award-winner Guillermo Del Toro's take on the classic noir-thriller.
Corrupt former Carnival worker Stanton Carlisle is a nightclub entertainer and master manipulator. Using Carnival mind-reading tricks and charm, he swindles millionaires out of money. Carlisle's act is thrown into a lurch when he meets Dr Lilith Ritter, an unsavoury psychiatrist initially intent on exposing his secrets and con-work – eventually becoming embroiled in his schemes.

Del Toro has assembled a star-studded cast including Bradley Cooper, Cate Blanchett, Willem Dafoe, Toni Collette, Richard Jenkins, Ron Perlman, Rooney Mara, Holt McCallany, Clifton Collins Jr., Tim Blake Nelson, Mary Steenburgen, and David Strathairn.
Cast: Bradley Cooper, Cate Blanchett, Toni Collette, Willem Dafoe, Richard Jenkins, Rooney Mara, Ron Perlman, Mary Steenburgen, David Strathairn
Director: Guillermo del Toro
★★★★★ "Guillermo del Toro proves he doesn't need monsters to thrill his audience" CINEMABLEND
"a true delightfully twisted noir" FLICKERING MYTH
"a sumptuously made noir" GUARDIAN
"Bradley Cooper shines in Guillermo del Toro's glossy Carnival of Souls" INDIEWIRE
Sessions
Wednesday, 26 January 2022: 11:00 AM (ends 1:35 PM) Reserve
Wednesday, 26 January 2022: 8:00 PM (ends 10:35 PM) Reserve
Thursday, 27 January 2022: 8:00 PM (ends 10:35 PM) Reserve
Friday, 28 January 2022: 8:00 PM (ends 10:35 PM) Reserve
Saturday, 29 January 2022: 8:00 PM (ends 10:35 PM) Reserve
Sunday, 30 January 2022: 2:15 PM (ends 4:50 PM) Reserve
Wednesday, 2 February 2022: 1:45 PM (ends 4:20 PM) Reserve