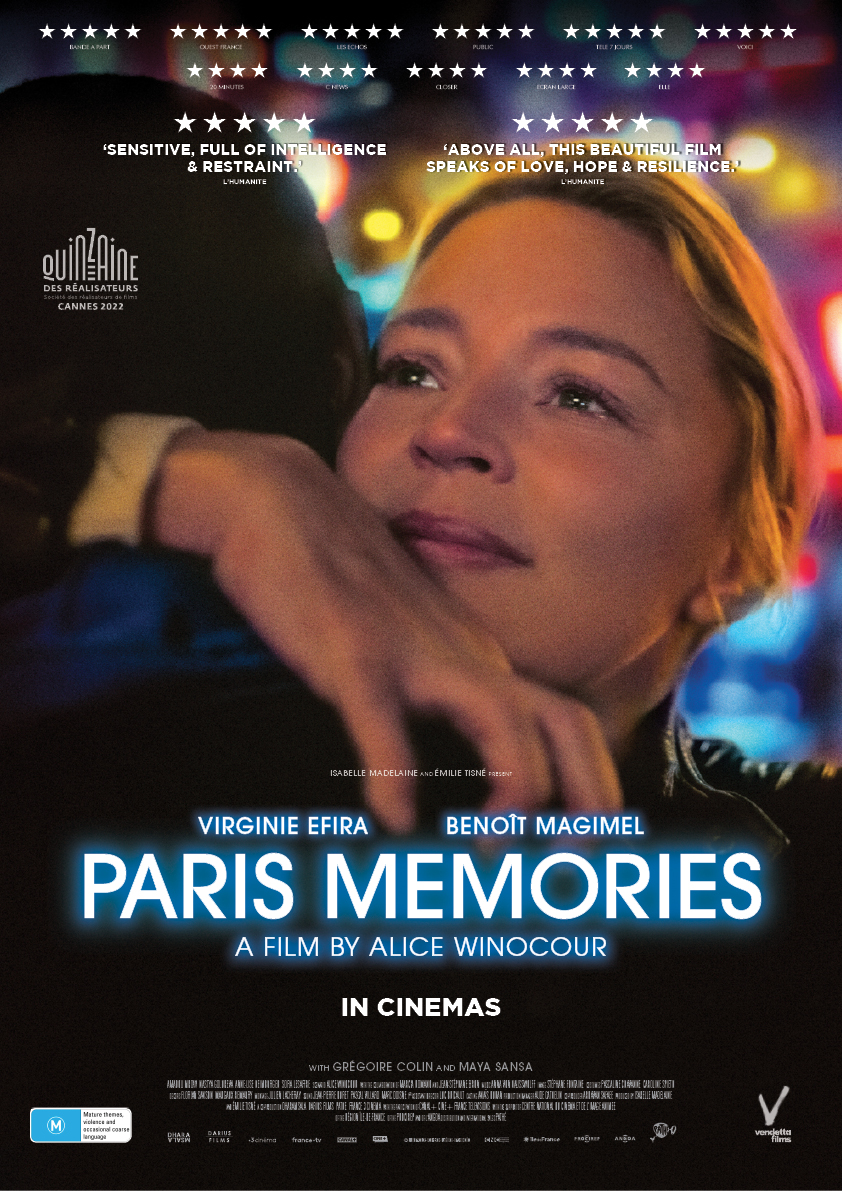 Set in the aftermath of the horrific November 2015 terrorist attacks in the heart of Paris – Paris Memories follows survivors as they try to come to terms with a tragedy that will change the course of their lives forever. It is an evening in Paris like any other, as Mia quietly enjoys dinner, sipping wine, gazing at the birthday celebrations at a nearby table - locking eyes with handsome Thomas from across the room. All of a sudden, a chorus of birthday song is interrupted by the hail of bullets as diners fight to stay alive, their comfortable existence torn apart by the violence of extremists.
Having managed to escape, Mia and Thomas reconnect in a desperate attempt to make sense of the disaster, trying to find closure after such a terrible, unexplainable attack. As the victims and their families scramble to piece the events together, the question remains – in the face of tragedy, is it better to remember or forget?
Hailed by Variety as a "fine dramatic turn," Virginie Efira delivers an incredibly moving and honest performance, in gripping scenes that expose the brutality of this truly devastating tragedy.
Cast: Grégoire Colin, Virginie Efira, Benoît Magimel, Maya Sansa, Amadou Mbow
Director: Alice Winocour
★★★★ "[a] soulful portrait of a terrorist attack survivor" GUARDIAN
★★★★ "It's powerful film-making, grounded by Efira's enormous, often silent, central performance." OBSERVER UK
★★★★ "Devastating, yet ultimately rewarding, Paris Memories [Revoir Paris] offers an alternative to the usual socio-political consideration of a terrorist attack by drawing a humane, kaleidoscopic portrait of various survivors' crisis responses." EMPIRE MAGAZINE
★★★★ "It's a measured, quietly powerful film with a performance from Virginie Efira that seems almost telepathic at times; in scenes where she doesn't say a word, barely twitching a muscle in her face, yet somehow you know what she's feeling." GUARDIAN
★★★★ "It's a sensitive, careful film with real emotional intelligence" TIME OUT
★★★★ "a poignant meditation on personal drama" LITTLE WHITE LIES
★★★★ "Winocour provides a notable new take on PTSD in the movies, painting existential grief across a shadowy Paris, the city's typical magic occluded." ARTS DESK