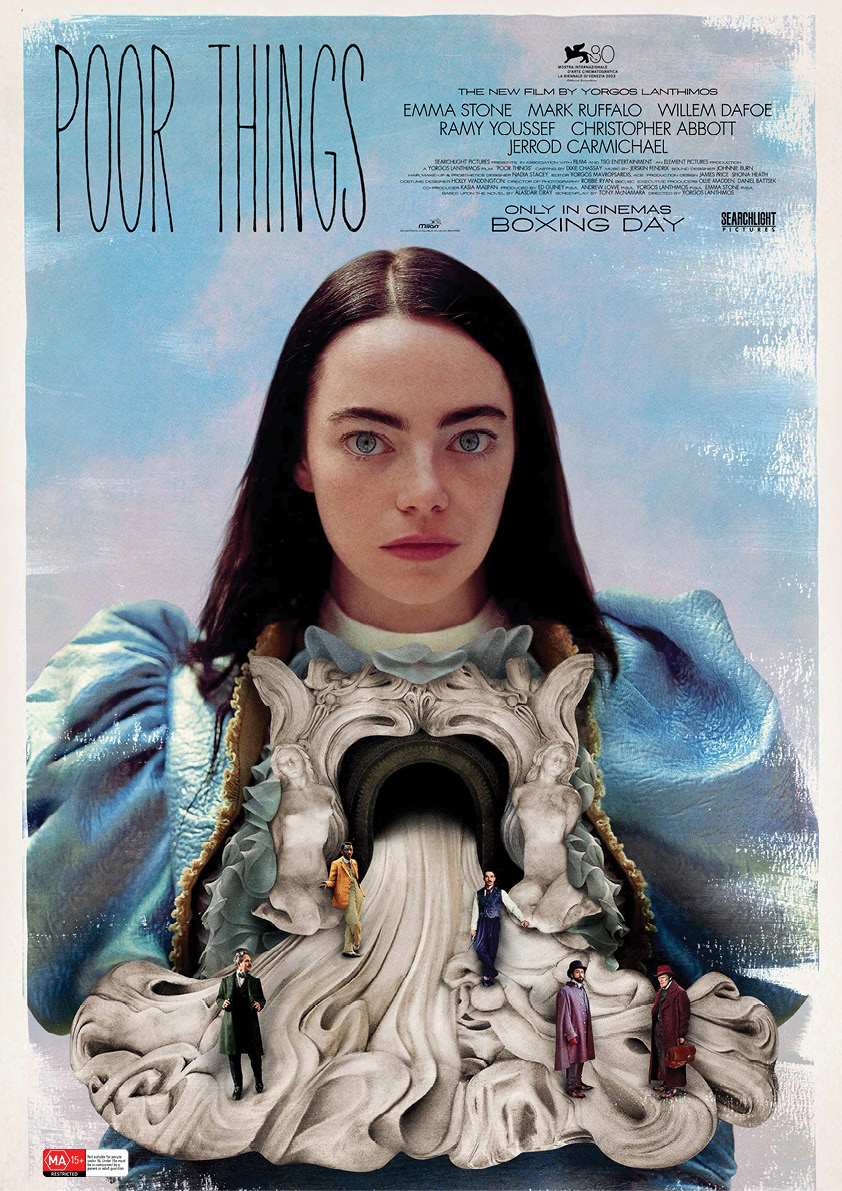 From the brilliantly, bizarre mind of the three-time Academy Award-nominated Yorgos Lanthimos (The Favourite, The Lobster), Poor Things is the incredible tale and fantastical evolution of Bella Baxter, a young woman brought back to life by the brilliant and unorthodox scientist Dr. Godwin Baxter.
Under Baxter's protection, Bella is eager to learn. Hungry for the worldliness she is lacking, Bella runs off with Duncan Wedderburn, a slick and debauched lawyer, on a whirlwind adventure across the continents. Free from the prejudices of her times, Bella grows steadfast in her purpose to stand for equality and liberation.
Based on the acclaimed book by Alasdair Gray, the screenplay for the whimsical postmodern revision of Frankenstein was written by Tony McNamara, making this the second award-winning collaboration between Lanthimos and McNamara (The Favourite).
Cast: Emma Stone, Christopher Abbott, Willem Dafoe, Mark Ruffalo, Jerrod Carmichael, Margaret Qualley
Director: Yorgos Lanthimos
★★★★★ "an equally – and brilliantly – surprising hybrid: a feminist coming-of-age story, monster movie and bawdy, foul-mouthed sex romp that the Greek alchemist has somehow forged into a masterpiece." TIME OUT
★★★★★ "Expect an Academy Awards deluge." TIMES UK
★★★★★ "Everything in it – every frame, every image, every joke, every performance – gets a gasp of excitement." GUARDIAN
★★★★★ "No other mainstream director today is making movies this visually bold and brilliantly realised." FINANCIAL TIMES
★★★★★ "Together, Lanthimos and his team of players and crew have conjured up a delight that – like its protagonist – is eccentric, smart, a little dark, lovely to look at and charming as hell." EVENING STANDARD
★★★★★ "a madcap creation myth with thrillingly humanist stakes." DAILY TELEGRAPH UK
★★★★★ "director Yorgos Lanthimos (The Lobster, The Favourite) hits his stride with his strangest yet most deeply satisfying comedy fable yet" CINEVUE
★★★★★ "This is Lanthimos working on a whole other level, and his finest film to date... made possible by one of the bravest performances ever committed to screen by Emma Stone.​" FLICKFEAST
★★★★★ "A funny, sad, bawdy, beautiful concoction that will haunt and provoke in equal measure." TOTAL FILM
★★★★ "It's easy to forgive any film which is as gleefully excessive as this one. Lanthimos may get carried away, but the results are daringly outrageous and often hilarious." BBC.COM
★★★★ "Emma Stone has never been bolder than in this oddball farce" INDEPENDENT UK