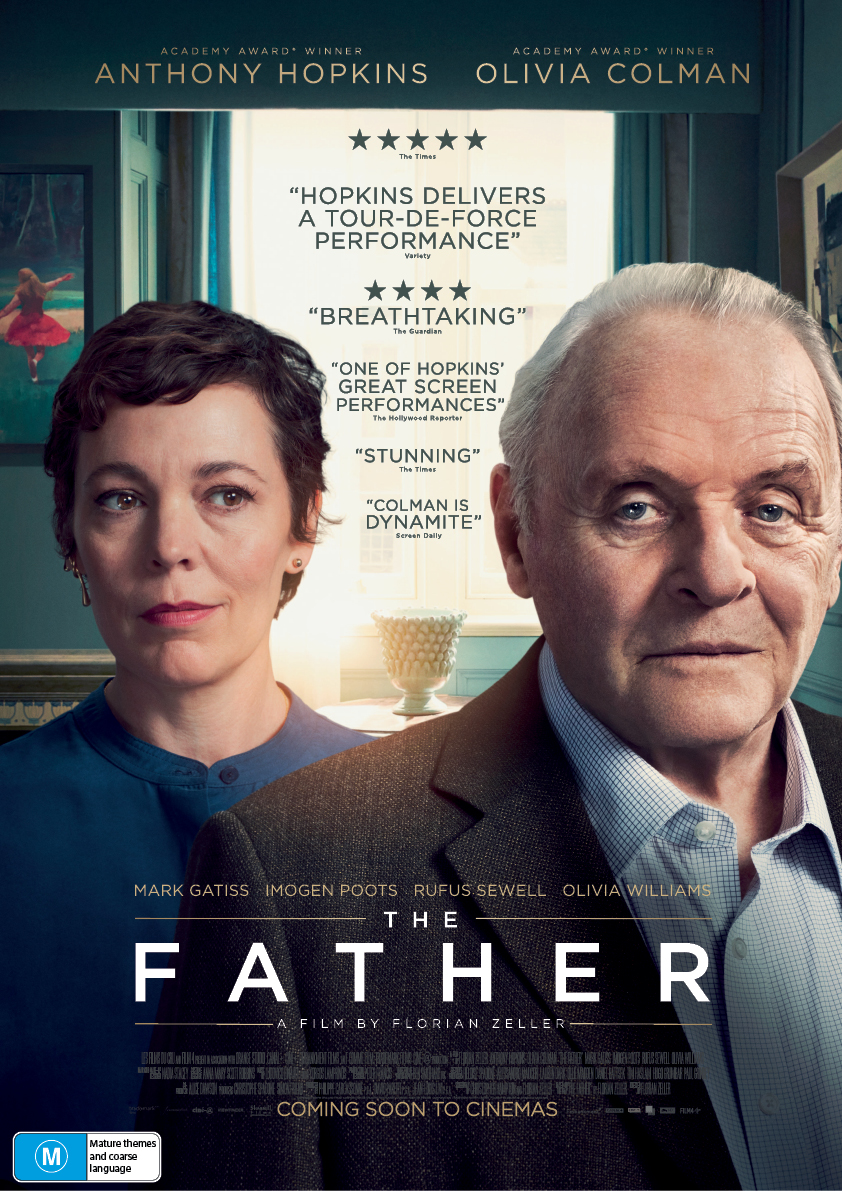 Nominated for 4 Golden Globe Awards, 2 SAG Awards, 4 Critics Choice Awards, 4 AACTA International Awards and winner of 3 British Independent Film Awards (Best Actor, Best Screenplay and Best Editing).
Florian Zeller's highly anticipated feature film The Father, is based on the Tony, Olivier and Moliere award-winning play, of the same name.
Anthony is a mischievous man of 80, who lives alone in his London apartment and refuses each of the nurses that his daughter Anne tries to impose upon him. But as his mind begins to unravel and his sense of reality is slipping away, both father and daughter are forced to contend with an uncertain future, and with their enduring love for each other.

The Father stars Academy Award winner Anthony Hopkins as a charismatic but fragile titular patriarch, against Academy Award winner Olivia Colman as his increasingly frustrated daughter.
Cast: Anthony Hopkins, Olivia Colman, Rufus Sewell, Imogen Poots, Mark Gatiss
Director: Florian Zeller
★★★★★ "stunning" - UK TIMES
★★★★ "an awesomely difficult subject beautifully, movingly brought to the cinema screen." - DAVID STRATTON
★★★★ "Ingenious... breathtaking... astounding, heart-breaking... [Hopkins is]an early front-runner for the 2021 race with a turn so crushingly effective that Ican't see how any other actor could beat him." - GUARDIAN
★★★★ "Brilliant performances. Entrancingly different. Tour deforce performance" - INDIEWIRE
"Anthony Hopkins gives one of the most vulnerable and emotional performances of his career" - ROBERTEBERT.COM
"bracingly insightful, subtle and nuanced… This will certainly go down as one of Hopkins' great screen performances" - HOLLYWOOD REPORTER
"Hopkins is flat-out stunning" - VARIETY
"Anthony Hopkins and Olivia Colman are astounding. The Father is a testament to their talents and proof that they are two of the best actors we have." - AWARDSWATCH