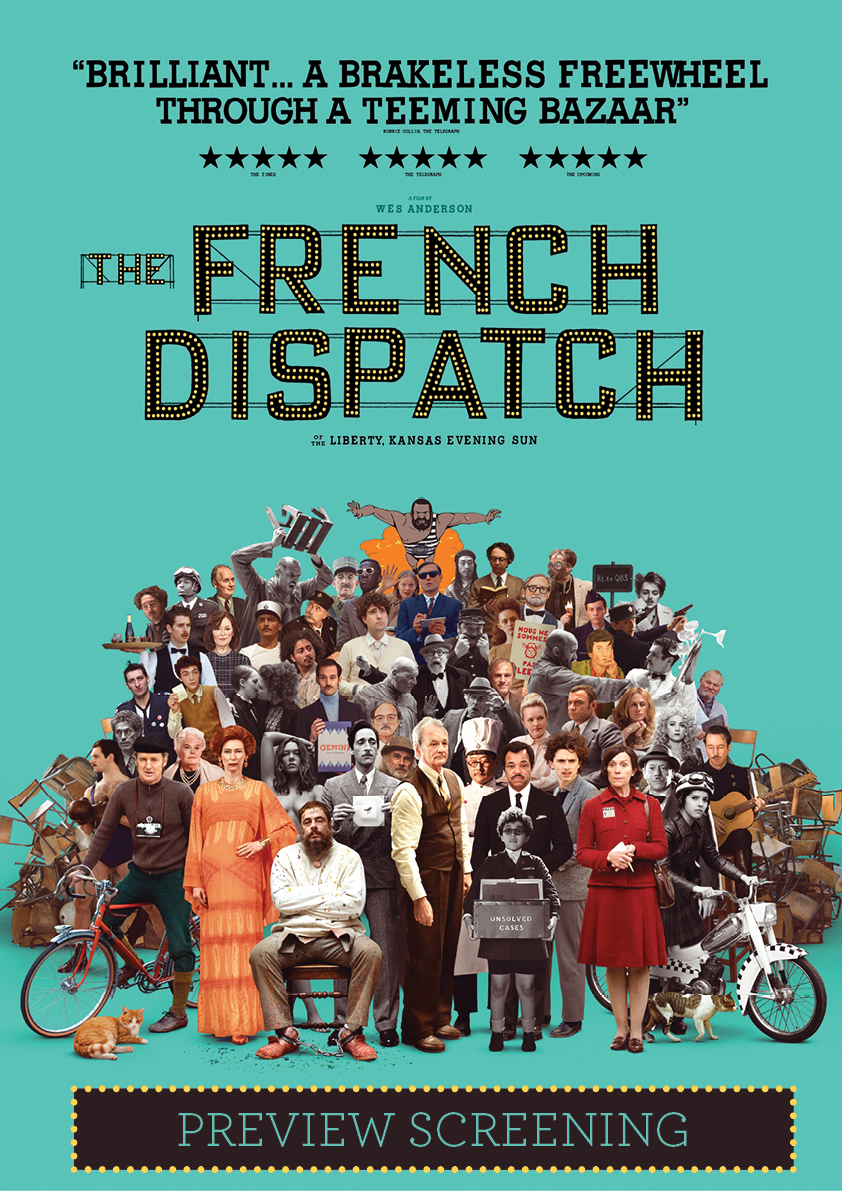 Be the first to watch Wes Anderson's "extraordinary" latest film, The French Dispatch! Arrive at 12:45 for a preshow performance by resident theatre organist, Wendy Hambly!
Boasting an all-star cast, and the whimsically aesthetic cinematography we've come to expect of director Wes Anderson, The French Dispatch brings to life an eccentric American newspaper outpost in 20th century France.
The film showcases three central stories from the colourful characters working at the magazine, narrated and performed by a stellar cast including Benicio del Toro, Frances McDormand, Jeffrey Wright, Adrien Brody, Timothée Chalamet, Léa Seydoux, Tilda Swinton, Mathieu Amalric, Lyna Khoudri, Stephan Park, Owen Wilson, and Bill Murray.
Anderson's vibrant anthology is a love letter to journalists, an artistic spectacle that is a must-see for cinephiles, film-buffs and word-lovers alike.
Click on "Book Now" or visit trybooking.com/BVXJN to purchase your tickets!
Cast: Frances McDormand, Bill Murray, Owen Wilson, Jeffrey Wright, Elisabeth Moss, Timothee Chalamet, Benicio del Toro, Adrien Brody, Tilda Swinton, Léa Seydoux, Lyna Khoudri, Jeffrey Wright, Mathieu Amalric, Stephen Park, Edward Norton, Willem Dafoe, Christoph Waltz
Director: Wes Anderson
★★★★★ "This is Anderson at his most crowd-pleasing." TIMES UK
★★★★★ "extraordinary... the cinematic equivalent of a brakeless freewheel through a teeming bazaar – if said bazaar was stacked with beautiful vintage artefacts, all meticulously arranged" DAILY TELEGRAPH UK
★★★★★ "Like the very best of Anderson's films, The French Dispatch is both utterly exquisite and deceptively complex" INDEPENDENT UK
★★★★★ "It's a pleasure to be in the hands of a storyteller who cares so deeply about every aspect of his work." LITTLE WHITE LIES
★★★★ "Wes Anderson's ode to print journalism is a periodic delight" GUARDIAN
★★★★ "the movie is a gas. It moves with, well, dispatch, clattering along in its own eccentric way." CINEVUE
★★★★ "the most Anderson of all Anderson films. It's Anderson distilled, Anderson squared, Anderson to the nth degree." BBC.COM